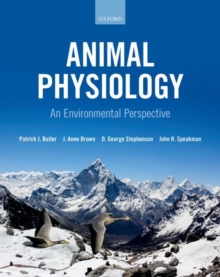 Animal physiology : an environmental perspective
0199655456 / 9780199655458
28 cm xii, 1089 pages : illustrations (colour)
Wild animals survive in a variety of complex environments; they are exposed to predictable and unpredictable changes in their particular environment on a daily or seasonal basis.
However, we live in a time when almost all natural environments are undergoing relatively rapid change, and many of these changes, such as the pollution of air and water, removal of natural food sources, environment fragmentation, and climate change, are the result of human activity. Animal Physiology: an environmental perspective shows how an understanding of the physiology of animals in their natural habitats helps us to understand not only how and why animals evolved the way they did, but how we can act to protect at least some of them from the extreme effects of the changesaffecting their environments.
Part One sets the foundation for the topics covered in the remainder of the book by introducing a range of fundamental processes that are essential to life.
It considers the diversity of habitats on Earth in which animals live, and examines animal groups and their evolutionary relationships.
It then explores the different feeding strategies used by animals to obtain the energy they require to carry out all the essential functions of life, and how animals convert the chemical energy in foodmolecules into the energy they need to power all body functions.
Finally, it explores the general properties of animal cells, and how animals maintain a suitable internal environment in which their cells are protected from external influences.
We then examine those fundamental principles governing themain exchanges between the cells within animals, and between an animal and its environment.
Parts two to four of the book explore how different organ systems - respiratory and circulatory systems, excretory organs and endocrine systems - enable animals to interact with their environment, and how environmental temperature profoundly affects the physiology of animals.
Part five considers how the sensory and nervous systems provide animals with information on their internal as well as their external environment, and how they, together with the endocrine system, are involved in the control and co-ordination of muscles, reproduction, salt and water balance, and the cardio-respiratory systems.
Digital formats and resources Animal Physiology: an environmental perspective is supported by online resources and is available for students and institutions to purchase in a variety of formats. The e-book offers a mobile experience and convenient access along with functionality tools, navigation features and links that offer extra learning support: www.oxfordtextbooks.co.uk/ebooksThe book's online resources include:For students:- Original articles: a list of original articles consulted during the writing of each chapter so that you can explore the original research for yourself. - Additional case studies and experimental approach panels to augment those in the printed book. - Answers to numerical questions: full solutions to numerical questions so that you can verify your working.
For registered adopters of the text:- Digital image library: Includes electronic files in JPG format of every illustration, photo, graph and table from the text
BIC: